MAG 7 Racing Information and Services
TESTIMONIAL!
"Finally getting around to publicly thanking Mag 7 for exceptional service at the 500. My nephew apparently overheated the 99A DS 650 somewhere after Borrego. A bike racer stopped to check on him, then stopped at the next Mag 7 pit and let them know he was stopped. Someone came out from the pit on a bike, met him on the course (he was moving again) and followed him to the pit. There they checked over the quad and made sure my nephew was OK (it was godawful hot out there) before they sent him back out. This was way above and beyond what I would have expected from a pit service. Just wanted to put the info out there to help anyone trying to decide which service to use at the 1000."
- Rusty Batza
New to Baja Racing?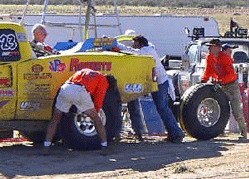 This article offers information for the first time Baja racer.
(...and a good read for the veteran as well.)
Written by MAG 7 racer Dan Roush -
"MAG 7 is the most prepared and equipped pit organization in the desert."
---
Radio Frequencies and Hints:
Here is a list of various frequencies used by Baja race teams, and some suggestions on radio set-up. MAG 7 uses 153.380MHz.

---
MAG 7 Here!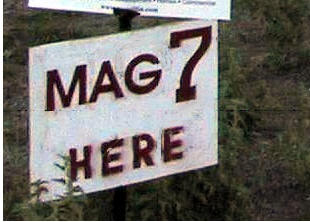 Our MAG 7 "HERE" sign at each pit.
A similar one is also 1/4 mile before the pit, and 1 mile from the pit.
---
MAG 7 Banner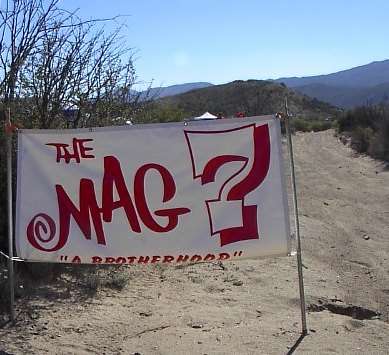 A distinctive MAG 7 Banner is also located at each pit.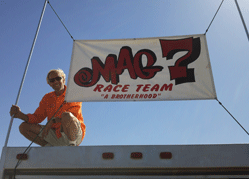 ---
Crew in Orange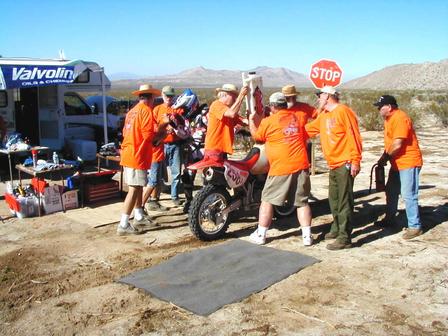 All MAG 7 pit crews wear the bright orange shirts. You'll see orange everywhere on the race course, as MAG 7 goes where no other pit organizations will.
Want your own orange pit crew team shirt? Talk to Thomas about joining MAG 7.
Basic skills and a great sense of adventure are all you need!
---
SCORE Race Classes
Click on the link below for a list of the various bike, quad, buggy, and truck classes that SCORE has defined.
We support them all!
---
Our Services and Equipment:
---
MAG 7 Pit Equipment:
Dry breaks
Dump Cans
Welder
Shop Tools
Expert Staff and Mechanics
Multiple Race Radios
Lubricants and Fluids
Soda, Snacks, and Water
First Aid supplies
Friendly folks wanting to help you race any way they can
---
Choose Either Full Service or Emergency Service:
Full Service:
MAG 7 crews will transport your spares to the pits and back and fill you during the race with your desired fuel
(high-octane or pre-mix) from dry-breaks, dump cans, or jazz cans.
Emergency Service:
Already using BFG or Honda pits? Sign up with MAG 7 Emergency Support Service in addition to your current pit service to ensure you have help WHEN and WHERE you need it. We have more pits located around the race course than anyone else.
It's inexpensive insurance for a fast finish.
---
We Cover the Course
MAG 7 pits seem to be everywhere!
Located at 50-60 mile intervals up and down the racecourse, we'll be there WHEN and WHERE you need us.
---
We Use VP Racing Fuels
There are a lot of fuel options available to the racer, and MAG 7 has teamed up with VP Racing Fuels to deliver quality fuel and a flexible range of octanes. We do not supply pump-gas.
Click Here to read why we supply only Racing Fuel.
---
Fuel Return Policy
If for some reason you do not use fuel you purchased for a race, you may go to the pits and pick-up your unused fuel.
After the race, MAG 7 pit captains cannot haul the fuel back into the United States, so you must meet them at the pit before they close down and depart.
---
Excellent Baja Racing Links

SCORE International
Dirt Newz Website
Race-Desert forum
---
Good Luck from the MAG 7 Brotherhood!